Why are the Tampa Bay Bucs turning the team around so fast and Skins are not?
" I think Tampa has got a young team that has made some personnel moves to bring some players in this year with their cap room. I think Greg Schiano has done a good job fixing some of their problems. I think Washington's issue has been really their inability to get things fixed defensively in terms of playing real good solid defense. The first two years without a Quarterback it was difficult and then the last three years without the defense. I don't think they have been able to establish anything on either side of the ball with some continuity, so that's been a real issue. I think Tampa is ahead of them, you know Indianapolis is 6-3 this year with the QB. I would have thought when the Redskins drafted RGIII that they had the better team but obliviously they don't right now and Indianapolis does ."
Shanahan had issues with defensive in Denver and and now hes having  problems in Washington..History repeating itself?

"Yeah..Mike Does, If you go back and look at Mikes drafts on defensive players and Free Agent signings on defense, Dre Bly and a lot of players there they really struggled to have guys that can perform. His Defensive drafting hasn't been well and I think if you see the signings of the Redskins and where they think they are defensively I think you're right, history is repeating itself in a sense that is a lot of the issues they have to get fixed. They have to find better players defensively like their corner situation, Is Josh Wilson really a good enough starting Corner in the league? Deangelo Hall is he good enough? All the players that they have they have to make a decision , When London Fletcher is still one of your better players at his age then you really have to ask yourself some questions."
How would you fix this team if you were in Bruce's shoes?
"Lets be real honest  here Mike Shanahan runs the football operation and Bruce does what Mike wants him to do, Mike is in complete control of the organization. Bruce is operating under what Mike tells him and that is kinda how it is going to go. I think Mike has to recognize that he has to get better players on defense . You know the Offensive Line is still a problem and a issue, they get powered back , their not able to do things that they need to do. I think Mike as the General Manager has to look at Mike himself and say am I doing the right things here?  Am I making the right decisions ? How do I get it fixed? And maybe bring people in that could help him, perhaps add to the personnel , since Bruce and Mike have been there they haven't really added to the personnel department. They have to make sure they have the right people at the right jobs."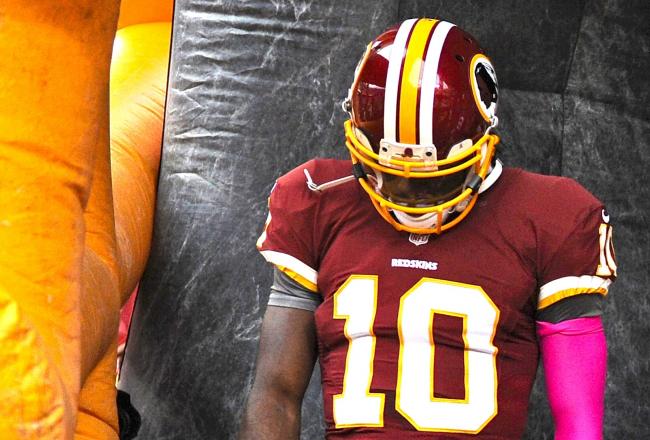 Year 3 of the rebuild or year 1 with RG3?
" This will be his fourth draft I think this is year 3 I mean part of the decisions that have been made effect the future of the team so their is no question this is year 3. You fully expect him to turn it around but the the problems on defense have been there. i know they have lost Orakpo and they have lost defensive players  who have been hurt. Tampa Bay has lost players  and gotten them hurt, I think they have to really be honest with where they are defensively, are they making the right decisions defensively, and do they have a good enough team."
"Then offensively do they have enough balance within their team and then their offensive line because when the Redskins get behind in games and the offensive line has to pass protect I mean you're starting Tyler Polumbus at right tackle. I know Jammal Brown has been hurt but Tyler Polumbus wasn't good enough to play for a lot of teams in this league and he is your starting right tackle, now you're asking yourself in year 3 is this where we wanted to be at right tackle? "
"I don't think you can ever get a mulligan on years in the NFL, nobody gives you that. Mike Mularkey is going to struggle to keep years together down in Jacksonville and hes on one year, Pete Carroll got fired after two years in New England so no its not just about one year its about three years. Mike has to really prove to the fan-base, 5 wins at home in 3 years is not endearing yourself to the fan base and I think he realizes that and the pressure is on."
On Shanahan comments following Carolina..
" He didn't endear himself to his own locker room  either.More than anything they have to prove to the fanbase and prove to the team they are headed in the right direction.  It is all about  what direction are you headed in ? I think you have to prove you are headed in the right direction and that you are comfortable with what is going on. You just can't.Because you won super bowls somewhere else you have to prove you can do it again, I think that is the challenge that awaits Mike."
"He embraced it, he took the year off , he came back and he was energized and recharged. Look at Bill Parcells first year in Dallas when he took over that team , Look at Bill Parcells first year with the New York Jets when he took over a 1-15 team and got them to 8-8. There is where your going to see progress, your building a program and the program has to have the progress that you need. I think that is where Mike and Redskins fans have to be honest with themselves, are we headed in the right direction? Daniel Snyder hasn't been involved hes stayed away and that's what all the Redskins fans wanted but now it is Mikes turn to produce wins."
Are the Redskins the same team that Mike Shanahan took over minus RGIII?
"I thought they were better on defense than the one he took over. You can say what you want about Greg Blache and they didn't have great pass rushers even at the time, Andre Carter was their best pass rusher and they were able to push the pocket back. They were always 24th or 25th in sacks but they were always in the top ten in defenses because they played hard, they played sound, they covered better, and their coverage units were better."
"Offensively their offensive line hasn't really been fixed in awhile , its been a issue, certainly its been a problem and its been a issue even going back to when Jim Zorn was there. I would say its been on par but at least you have a quarterback, that's what gives you the future of the team which makes it a lot easier to build around."
"To me as a outsider looking in their defense they have to get better there, are they suited for the 34? are they really good enough in the back end? I think you have to ask those questions. Then you have to figure out what you are going to do with the offensive line. Is Jammal Brown really the .. I mean when you're waiting for Jammal Brown to come of IR and get him healthy, are you really that good of a football team ?"
"That offensive line has been a problem even when you signed Derrick Dockery and paid him all that money, now everyone can blame Vinny for that but the line still hasn't been fixed. You know it is still a problem and you have to be able to get it fixed. Other teams around the league seem to be able to do it but and for whatever reason it hasn't happened in Washington. To me its about whats the plan, how is the plan being implemented , and is the plan eventually going to work? You get focused on one minor issue you lose sight on what the big program is. Lets take the Kansas City Chiefs, your Scott Pioli you go to Kansas City and you're in year 4 of your program, you need a second head coach and you need a QB, that's not where you want to be."
"When you take over a team you need to solve the QB position and you need to make sure you get the head coach. Those are the two things that you're going to be judged on. Ron Wolfe comes to Green Bay and he trades for Brett Favre and gets Mike Holmgren as his coach, people forgot that he drafted Terell Buckley in the first round, drafted John Michaels in the first round, or he didn't hit with a second round pick. No , nobody remembers that because he got the QB then got the Coach. They remember the Antonio Freemans in the third round, the Dorsey Levens in the 5th round, they remember the players that played for him and forget the bad picks."
"That's what you have to do. People focus on the minor issues when the core issues are do you have the right coach? , do you have the right GM? For me Mike is the GM of the team, hes the guy picking the players, hes got to make sure he is doing himself a job as the coach as well."
Can Mike Shanahan improve the Redskins working with limited draft picks and Salary cap punishments?
" That's a great question..To me when they got hit with cap penalties and got hit with $36 million and lost $18 million your gonna have to figure out how to find players, your gonna have to figure it out because you have to find a solution. Ive often said Daniel Snyder has made a mistake about putting money into players when he should of put $ 5 million dollars into having a state of the art personnel department, build the personnel department that"s the best in the league instead of spending money on one player that you're never gonna see again so I think now is the time to do it. Its going to be a real challenge for Mike and its going to be difficult."
"  How do you find offensive lineman when you don't have draft picks? You don't find offensive lineman on the free agent market they rarely make it there. How do you find impact defensive players? You think you're gonna find a corner on the street ? That's difficult to do, you really have to find your way and really work at it and struggle and remember this, It take talent to evaluate talent and you always have to evaluate the evaluator. When a team has really good players there is some reason why they have really good players ans I think you have to try to find that and I think that is going to be the challenge for the Redskins and year 4 in won't get any easier."
RGIII or Andrew Luck?
" I think Andrew Luck has been fabulous and think he has done a great job of taking the playbook and digesting it, he's running Pittsburgh's offense that was in place from last season, he's doing it at the line of scrimmage with the checks. I love RGIII too and think he is doing a great job and he's a great competitor, great player to stand in front of you and he's got the leadership and work ethic that you want , I don;t think you can go wrong with either player."
"I thought the Redskins were the better team so I thought RGIII would have more success but this is the second year in a row Ive miss evaluated  the Redskins as a football team, I think their talent isn't what I thought it was. Look they have done a great job in Indianapolis buying into what there doing, there not good but they control the ball for 34 minutes , there defense has to only play for 26 minutes so that really cuts them down and they have kept the ball in front of them. They don't give up a lot of big plays which helps, they are like 9th in big plays allowed so they keep the ball in front of them and keep the game close into the fourth quarter, where as the Redskins when they  get behind in a game like they did against Carolina and their offensive line has to drop back pass protect not play action pass protect then it becomes a problem."
"Look when Mike was in Denver he was in that rush to get the lead in the first quarter because he wanted to be able to have that play action pass going to be able to run the ball and  throw the ball off play action so his lineman who were quick and athletic could pass protect, when he got behind in games is when those lineman became very difficult in pass protection, same thing happens now and same thing happens in Houston. Houston gets behind in a game like they did against Green Bay their offensive line which people think is the best in football has to pass block it becomes a liability."
' He's as good a offensive coach as their is in the league there is no question. The conversation were having tonight is not about debating where Mike is as a offensive coordinator , that's not up for debate hes really talented. The question comes  How come his defense never seems to get answered and fixed ? and where is he in terms of player personnel and picking players?"
Can Mike get it done in year 4 and stay 5?
" I think it is going to be a challenge for him to come up with the solutions especially in the light of the fact he has lost $18 million dollars in cap room  and he cant spend his way out of the problem next year in free agency and the caps not going up. I think it's going to be very difficult to improve the team in terms of finding new players, think they are going to have to work with the ones or find some ones that are young. I think it is a challenge because you don't have a state of the art personnel department. You haven't made those changes in the personnel department its still the same group, Vinny's not there but it's still the same people. Bruce isn't personnel he does public relations, cap, and all those things. Bruce isn't the true total GM in terms off breaking down teams and finding players."