Continuing our new draft prospect series, I've decided to take a look at someone who I feel is becoming criminally underrated in draft circles, Devin Street. Street is a WR out of Pittsburgh and stands at 6'4 and around 190 pounds. When looking at that frame, the first worry is that he's just a lanky WR, who can't beat the press. The reality is though Street does a pretty good job against the press and can be a successful WR in the NFL. With a team like Washington needing to add more weapons to the offense, adding a WR with the ability of Devin Street could pay major dividends.
Route Running:
When you evaluate college receivers, there usually is one common trend with most receivers. You'll notice that many college receivers aren't perfect in their route running, as they tend to round off routes and aren't as crisp as you notice NFL players. When watching Street, you can see some of that as well as he doesn't always run crisp routes and it shows as the defender can break on the ball and make a play. This is something that can be fixed, but also you want to see a receiver focus on the finer things and right now Street doesn't always focus on that.
Catching Ability:
This is what really sets Street apart from other receivers in this class. While he may not be the most polished route runner, or maybe the all-pro athlete, Street makes catches and he makes some difficult catches with ease. In the video below, you can see Street have a very good game against a very good Florida State secondary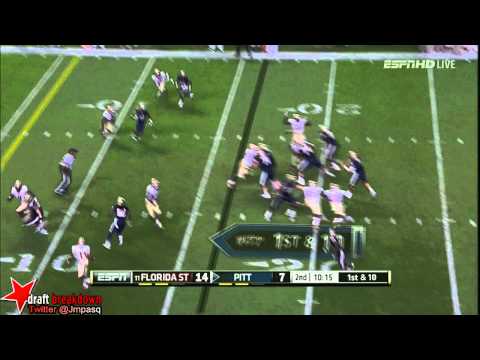 (Credit to my good friends at DraftBreakdown.com with the video cut up of Street)
In the above video, the Florida State Defense knew exactly from the get go, that Street is the #1 player for Pittsburgh, and they ran a few versions of a bracket coverage in order to make sure he didn't get the ball, but Street finds a way to make plays, even when teams target him. One thing I really enjoy to see out of a WR is the ability to high point the ball and also being able to attack the ball. When watching Street play it's pretty obvious he attacks the ball and makes the plays at the highest point. I expect this to continue to be a strong point of Street moving forward, and he'll be a very good red zone threat because of that ability
Size:
When looking at WR's you have to evaluate the size of a WR, relative to what they are asked to do in each scheme. I'm not going to evaluate a Calvin Johnson the same as I would a Wes Welker, as they are asked to do different things in each scheme. When looking at Street I evaluate him as an outside receiver, who has the natural ability to move to the inside if needed. At 6'4 inches, Street has the ability to play outside against NFL CB's because of his length. While no official measurements are out yet, Street looks to have above average arm length, and that'll help him out a ton when it comes to beating press coverage in the NFL. The worry still comes to Street only being 190 pounds, but I think with being in an NFL Strength and Conditioning program, we can see Street to fill out to be 200 pounds and be solid all around
Speed:
While speed should never be the main point in drafting a WR or not, unless you're the late Al Davis, it does play a factor in determining if a WR can succeed in the NFL. While there isn't an official time out yet for Street, I wouldn't be surprised to see him run right around a 4.5 40 time, which would be a very solid time for him. He may never be a freak athlete who runs a 4.3 at his size, but him at a 4.5 or even a little lower than that will help boost his value to teams, instead of just valuing him as a big body receiver in the end zone.
Conclusion:
So where does Street fit in here? Well it's simple; Washington needs to add targets on offense to help out RG3 moving forward. With Garcon and Reed, the Redskins have two targets to feature around moving forward, but adding someone like Street who can pressure off Garcon, it would be huge moving forward especially in any new offensive scheme. With Hankerson out for a while with the knee injury, Street could step up early on and take that spot from him and really become a fixture in this offense. I currently have Street with a 4th round grade, but has the ability to move up with a good showing this offseason.