At some point while I was reading Robert Griffin III's Facebook post/rant, I kept thinking of this;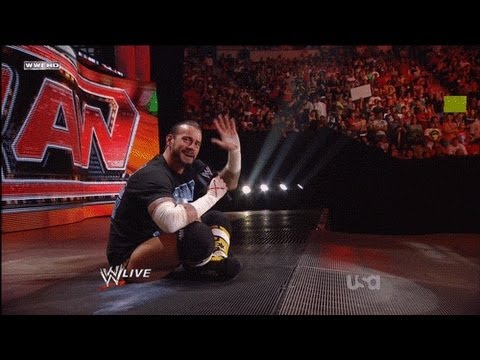 For the non-wrestling fans in the audience, that is CM Punk's now infamous (in wrestling circles, anyway) "pipe bomb" promo. While not completely a "shoot" (i.e; unscripted) promo, many of the grievances that Punk talks about are legitimate; the constantly being unappreciated, ungrateful fans shoving programs for him to sign in his face, and how no matter how hard he worked it didn't seem he could get any forward traction. That one promo changed Punk's stature in the company, and it changed the landscape of WWE television at the time.
While Griffin didn't say anything as inflammatory, it does seem like RGIII's emotions finally boiled over when some smart aleck fan asked him why he wore his trademark arm sleeve. It seems petty, initially, that he'd even talk about it. And once again, social media may not be the best way to express yourself; it doesn't have any context, and comes off as a bit immature.
After a season in which his play was constantly questioned over that of his teammates and peers, when he's been labeled everything from a "diva" to a "boy emperor", with the guy who drafted him destroying his character while people have demeaned his family and his wife, some guy asking a question about his arm sleeve was probably the straw that broke the proverbial camel's back. The past season is weighing heavily on the quarterback, and going into his third season, it seems to me that he needs to blow off a little steam.
I've talked before about how part of RGIII's perception problem is due in part to him not being allowed to talk to the media. The Redskins under Mike Shanahan kept the quarterback on a tight leash, regularly refusing interviews from the local press. That's an issue that has to reverse course if you're trying to rebuild the brand and character of a franchise quarterback.
He has to talk to someone. It's clear that he has things on his mind that he wants to talk about, but he has no mainstream outlet to express them too. Instead, he takes it upon himself to get his message out, either through text messages to ESPN analyst, or through the means that every other 23-year-old person the planet does; Facebook and Twitter.
On one level, it seems like Griffin is almost oblivious to how famous he is. A season ago he was positioned to be the face of the NFL, appearing in the same banners as guys like Tom Brady and Peyton Manning. 12 months and a benching later, the media has a new darling — his name is Russell Wilson — and Griffin is left at home, with tons of thoughts in his head and no healthy outlet to express them. And so Facebook it is.
If the Redskins PR department were smart (one can not emphasize the IF part of this statement enough), they would finally relax the restrictions around and make him available to interview with people like ESPN's John Keim, CSN Washington's Rich Tandler and Tarik El-Bashir, Grant Paulsen on 106.7 The Fan, Zac Boyer of the Washington Times, or even on a show like ESPN 980′s The Drive with Steve Czaban and former Redskins tight end Chris Cooley.
He doesn't need to do some huge media blitz, but he should be allowed to air his grievances, speak his mind, and reflect on what happened last season, in a formal setting. Maybe no quarterback in the league is accused of talking so much when he actually talks so little. While there are certainly people (Redskins fans and others alike) who will diss Griffin no matter how much or how little he talks, the only one who can mount an adequate defense for Robert Griffin III is RGIII, and the vast majority of the controversy surrounding him would be lessened if he could speak for himself.
With a new head coach and with a new mentality, clearing the air and letting the quarterback vent so we can all move past the Shanahan Error and past the criticisms of 2013. No one needs to or wants to move forward more than RGIII, it seems. Maybe it's time to give him the platform to do so.