I'm just going to let these quotes from Seahawks players and Seattle local media personalities, as well as the national football media, stand for themselves. I'll be adding more as the days to the game wear on.
Former Seahawks running back Mack Strong: "I don't think this game will be close…[Seattle is] playing at a much higher level than the Washington Redskins. I just feel like you line their 53 up against our 53, I think we win by at least 10 points." Source.
Seahawks linebacker Bobby Wagner: "Everybody has an assigned job, whether it was to cover the quarterback or cover the running back. When they do get into that pistol offense, we have a certain defense that we run against it. And if everybody do their job, they're not gonna run on us….They're the No. 1 rushing team in the league, I think. As soon as we shut down the run, they're gonna have to resort to the pass, and that makes them one-dimensional. So that makes knowing what they have to do easier to guess, just because they know they can't run the ball so they have to pass."  Source.
Seattle radio personality Dave "Softer" Mahler": "The Redskins defense ain't that good, all right? And this may be one of the worst defenses [Seattle has] faced all year long, especially on the road. The Redskins are like, what, 28th in the NFL in total defense? They're old, they're tired, they're not fast. This is the perfect opportunity for the Seahawks to go out there on defense and just do what they've been doing. We're not asking for anything extra, we're not asking for anything less. Just go out there and continue the trend. And the offense, against that Redskins defense, should be just fine. So I do trust them on Sunday." Source.
Seattle Seahawks wide receiver Doug Baldwin posted this handy-dandy picture on his Twitter…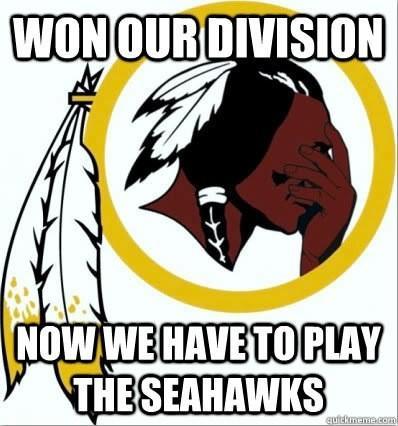 Seattle Seahawks linebacker Leroy Hill: "We sort of implemented the same plan, how we stopped Cam Newton's read-option and [Colin] Kaepernick," Hill said. "You know, we've seen that offense twice already, sort of. There's similarities. They don't do the exact same things, but we already have sort of a plan in place. We can pull from those two games, that we did pretty well against those teams to stop that." Source.
Seattle Seahawks cornerback Richard Sherman: When asked which wide receiver for the Washington Redskins worried him: "None of them." When asked about Pierre Garçon. "I don't think so," Sherman said. "Not that I know of."

Richard Sherman compares himself to Jesus. Seriously: "Everybody has haters," Sherman said. "People think Jesus didn't exist. They think he wasn't a miracle worker. There are people who say he didn't walk on water, or he only walked on water because he couldn't swim. Those people's opinions mean dirt to me." Source.
Seattle radio personality Mike Salk: "I don't know that I'm terrified of their wide receiving corps," Salk said this week. "I don't know whether an 85-year Santana Moss is somebody I'm supposed to be worried about….The wide receiving corps and that defense, neither one really scares me that much."
Mike Florio's Wildcard Game Prediction:  Before Week 17, we all assumed that the Seahawks would blow out any and all comers.  When the Rams managed to lose only by a touchdown in Seattle and the Redskins finished their climb from 3-6 to 10-6, the sense that the Seahawks would make easy work of the postseason field evaporated.  Though it may not fully return on Sunday, the Seattle defense will do a better job of containing the Washington offense than vice-versa, and the quarterback taken five spots after a punter will relish the opportunity to show that he can beat a quarterback with top-two pedigree.
Florio's pick:  Seahawks 31, Redskins 21.Source
Sherman and recently-returned-from-PED-suspension cornerback Brandon Browner on the Redskins receivers getting "smacked around".
According to the DC Sports Bog, 35 out of 46 "experts" have chosen the Seattle Seahawks over the Washington Redskins.
If you find anything else, let me know at twitter.com/kcclyburn, or leave a comment below, and I'll be sure to add it.